It is hoped that this operation will bring the energy efficiency and renewable energy that have characterised Lucera over the years to the largest number of households
👉 But let's tell you a little more.
What is Lucera and how did it come about?
Lucera is a 100% renewable electricity and gas utility that enjoys the highest levels of customer satisfaction, established in Valencia in 2014 by Emilio Bravo and later joined by Josep Planells and Richard Chamorro as co-founders.
Lucera has gone on to become a pioneer in the renewable energy utilities sector in Spain, and indeed in just a few years has been hugely successful thanks to an energy model that broke the mould to create new rules in the sector based on transparency, honesty and loyalty to its customers.
Lucera's goal has always been to provide straightforward bills so customers understand what they have consumed and what they are paying for, while also helping them become more efficient every day by offering personalised advice and reporting the tariff best suited to them, supplying only renewable energy at cost price.
Which partners have accompanied Lucera along the way? 
As is often the case with startups, the early stages saw the founders' friends and family put in whatever they could afford to help with the initial investment.
However, the company soon attracted the interest of business angels and top-level professional investors. This led to venture capital firms K FUND and Daruan Capital joining the company as investors in 2016, along with prominent business angels such as José María Torroja and Walter Kobylanski, while the British giant BP also entered the company at the end of 2017, seeing it as an investment and a strategic partner for its entry into the electricity and gas utilities market.
How did this agreement with MásMóvil come about, and what does it involve?
MásMóvil is the fourth-largest telecommunications operator in Spain, and the fastest growing in Europe.
Thanks to this agreement, Lucera becomes part of MásMóvil Group and takes another step forward in its commitment to offering customers energy services under the best conditions possible, promoting the use of renewable energy in Spain.
🚀We are proud to have accompanied Lucera on this great adventure! 
Aktion is delighted to have accompanied Lucera on this journey from the very outset, and to have had the opportunity to advise the company and its partners in this important operation.
A word from the CEO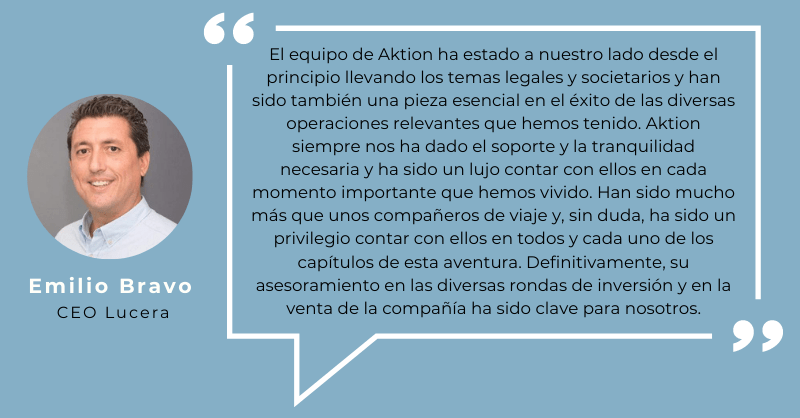 Finally, if you would like further information about how to successfully buy or sell startups, Aktion will let you in on the top 10 secrets in our ebook 'M&A for startups'.